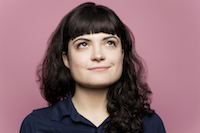 Filed by Jaime Lutz

|

Apr 27, 2016 @ 4:35pm
On April 26, orange Republican presidential candidate Donald Trump accused Democratic candidate Hillary Clinton of using her femaleness to her advantage. Quoth the Donald: "I call her 'Crooked Hillary' because she's crooked, and you know the only thing she's got is the woman card. That's all she's got, and it is pandering. It's a weak card in her hands. In another person's hands it could be a powerful card. I'd love to see a woman president, but she's the wrong person."
Later that night, he echoed that line of attack, even after criticism from Clinton. "Frankly, if Hillary Clinton were a man, I don't think she'd get five percent of the vote," he said. "The only thing she's got going is the women's card. And the beautiful thing is, women don't like her. Look how well I did with women tonight."
Weirdly, some women opposed the idea that being a woman in America gave them an advantage. And so, like they do, godless liberal comedians began cracking wise on Twitter. Here are some of the best tweets from those commies.
1.
2.
3.
4.
5.
6.
7.
8.
9.
10.
11.
12.
13.
14.
15.
16.
17.
18.
19.
20.
21.
22.
23.
24.
25.
26.