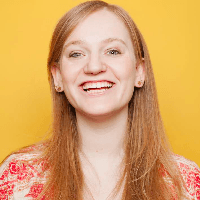 Filed by Orli Matlow

|

Apr 17, 2017 @ 4:25pm
Donald and Melania Trump's first White House Easter Egg Roll was a truly special event. Unlike the parties of years prior, the Easter party wasn't on Easter, featured no celebrity guests other than Kellyanne Conway, and included a speech about Trump's agenda next to the Easter Bunny.
It was as President Trump as a party could be.
The White House kept their fan who couldn't make it posted on Snapchat, and made a rally unfortunate, appropriate typo.
Yes, that is Betsy DeVos captioned with "education" misspelled. It's a good thing she's in the picture as to prove that she is not the one who made the typo.
And it's not even the only typo of the day.
The super Liberal Democrat in the Georgia Congressioal race tomorrow wants to protect criminals, allow illegal immigration and raise taxes!

— Donald J. Trump (@realDonaldTrump) April 17, 2017
Congressioal.
Trump posted this during his daily Fox and Friends live-tweet, and by evening, still hasn't corrected it.
Thatz rite peepol, speling is obsoleet.
If the Whyt Hawz is to leed by exampill, we scrooed.