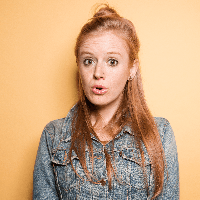 Filed by may wilkerson

|

May 30, 2017 @ 1:40pm
If you happened to pass down Market Street in Manchester, England, this past weekend, you may have seen a blindfolded man standing on the side of the street with his arms outspread.
If you stopped and took a closer look, you would've seen that he had a sign. It read: "I'm Muslim and I trust you. Do you trust me enough for a hug?"
We don't always condone hugging complete strangers. But in this case, we'd definitely hug the guy. And based on a heartwarming video going viral on YouTube, many others also chose to trust him enough to hug him.
That man in a blindfold is YouTube video blogger Baktash Noori. And in the days following the tragic attack at an Ariana Grande concert in Manchester earlier this month, killing 22 people and injuring many others, he wanted to do something positive to build trust between Muslims and the community.
So he did this:
He received a few hugs at first, then eventually crowds began to form as people lined up for hugs. Noori says he was surprised and overwhelmed by the positive response. "I did not expect so many people to come and hug me, let alone give me such positive comments, but it was the best thing I've ever done," he told Manchester Evening News. "With every hug, the comments I received were amazing, some were getting all teary and it's not hard to tell by a person's hug and tone of voice how much better their and my day became because of this."
In the caption to the video, he wrote:
Making this video has a been a great experience, the warmth and love i felt from each hug was truly wonderful. I want to thank the 2 guys that helped me out with this video, without them, i would not have been able to do this: Ahmad & Abdullah

Secondly, if you're gonna watch this video, turn up the volume, remove any distractions and watch teh whole thing, trust me, you'll thank me for it :)

Thirdly, please do NOT post any stupid comments, i made this video out of pure respect for the victims and and families involved in the Manchester incident and i've made this fro educational purposes. So PLEASE show some respect :)
Many people commented on YouTube that the video had made them proud to be from the UK.
And as this Muslim woman from Manchester wrote, the video "increased my hope" in the wake of the tragedy.
Twitter is touched.
@MENnewsdesk So beautiful to watch❤❤❤ Had me in tears from start to finish❤ The people of Manchester are truly special❤❤❤ #ILoveMCR ❤❤❤

— skylar (@skylarwhite2000) May 29, 2017
@MENnewsdesk This is truly amazing. It has to be watched worldwide.We ALL NEED to find a way to love each other and get on. ❤️🐝

— Wayne Rogerson (@WRogerson) May 29, 2017
@ajplus This is heartwarming💗. Our world needs more people like this guy.

— Sara (@Hill4America) May 30, 2017
@MENnewsdesk Amazing. This is so powerful and helped me to talk to my children as we watched this together x

— Lindsey Martindale (@linzDmart) May 29, 2017
This story is one of many heartwarming stories of love conquering hate to come out of Manchester in the days since the attack. Last week, this photo of a Muslim man comforting a weeping Jewish woman at a vigil for victims went viral:
And the community rallied in the days following the bombing, lining up to donate blood.
One of the people in line to give blood made a powerful statement about love and acceptance in Manchester, which also went viral:
"I don't care who you believe in, where you're from, this city is for everybody" – powerful words from blood donor Ian in Manchester pic.twitter.com/qlyF0U54T8

— BBC Newsnight (@BBCNewsnight) May 23, 2017
"I don't care who you believe in, where you're from," he said through tears, "this city is for everybody."
Beautifully said.
Hugs to the people of Manchester and hugs to you, too. You deserve it.