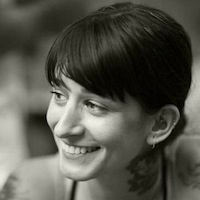 Filed by Jessie Dean Altman

|

Nov 08, 2016 @ 9:30am
Stars—they're just like us! THEY VOTE! And they get stickers, and then they take pictures of themselves with their stickers. And, because they're famous, they want people to see their sticker pictures. Which, in this case, is perfectly all right. Anything that gets more people out voting today!
1. America Ferrara
2. Kelly Ripa
3. Jenna Fischer
4. Karlie Kloss
5. Mario Lopez
6. Debra Messing
7. Katy Perry
8. Zoe Kazan
9. Kelly Clarkson
10. Jessica Biel
11. Olivia Wilde
12. Eva Longoria
13. Lady Gaga
14. Tyra Banks
15. Lauren Conrad
16. Lionel Richie
17. Drew Barrymore
18. January Jones
19. Hillary Clinton
20. Bill Maher
21. Ice Cube
22. Shonda Rhimes
23. Ron Howard
24. Mandy Moore
25. Patton Oswalt
26. Linda Perry
27. Jeffrey Wright
28. Constance Zimmer
29. Danai Gurira
30. Christina Aguilera
31. Colin Quinn
32. Don Lemon
33. Marc Jacobs
34. Uzo Aduba
35. John Legend and Chrissy Teigen
36. Naya Rivera Dorsey
37. Neil Patrick Harris
38. Steve Harvey
39. Michelle Kwan
40. Anne Hathaway
41. Anna Kendrick
42. Sarah Michelle Gellar
43. Blake Lively
44. Taylor Swift
45. Sarah Jessica Parker
46. John Stamos
47. Gigi Hadid