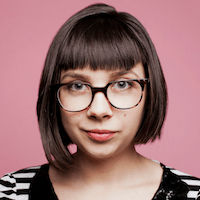 Filed by April Lavalle

|

Jan 23, 2017 @ 8:00am
Former first daughter Chelsea Clinton wants you to leave Barron Trump alone.
Clinton took to her Twitter and Facebook accounts to urge bullies not to pick on Donald Trump's 10-year-old son, instead asking that people use their energy and meme-making skills to oppose the policies the new POTUS is putting place that could hurt kids (we're looking at you, Betsy DeVos).
Barron Trump deserves the chance every child does-to be a kid. Standing up for every kid also means opposing @POTUS policies that hurt kids.

— Chelsea Clinton (@ChelseaClinton) January 22, 2017
Clinton was compelled to stand up for Barron Trump after trolls made him the subject of their jokes during the inauguration. One SNL writer in particular got a lot of heat for tweeting "Barron will be this country's first homeschool shooter." She has since deleted her Twitter account. Back in November, Rosie O'Donnell faced backlash for speculating that Barron Trump was autistic, which, whether he is or not, is none of her damn business.
Plus, Chelsea knows what it is like to be scrutinized from the sidelines, especially after rocking some of the boldest looks from the '90s.
Chelsea Clinton is a mother herself, and though she has made it abundantly clear that she opposes Barron's father on almost every conceivable level, she is adamant that targeting a child is off limits. Even if Barron Trump ends up Chelsea Clinton's old bedroom in the White House, it is nice to see her stand up for him—one first kid to another.