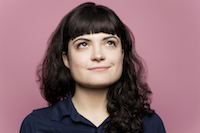 Filed by Jaime Lutz

|

Mar 16, 2016 @ 3:13pm
Today in boobs-and-politics news, reality TV star and human renovation project Courtney Stodden endorsed Sen. Bernie Sanders to be the next president of the United States. This, even though political stats guy Nate Silver says that isn't likely to occur—because Courtney Stodden has never feared what Nate Silver thinks! Here's how Stodden chose to do this:
Stodden is famous for marrying a 50-year-old man when she was 16, starring in the VH1 show Couples Therapy, and releasing a "solo sex" tape. Her vote counts as much as yours.