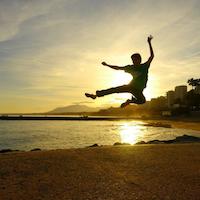 Filed by Mitchell Friedman

|

Apr 27, 2017 @ 9:13am
The Department of Homeland Security on Wednesday decided to open a new hotline for anyone who wants to report crimes committed against them by "removable criminal aliens," according to the BBC.
If you know anything about the internet, go ahead and guess why that was a terrible idea.
Trumps' "VOICE" Hotline set up for people to report on crime from illegal aliens was reportedly overloaded with calls about space aliens

— Robbie Gramer (@RobbieGramer) April 26, 2017
By criminal aliens, of course, the the Victims of Immigration Crime Engagement (VOICE) office means anyone besides a U.S. citizen who committed a crime in the U.S. That's not how Twitter took it.
Wouldn't it be a shame if millions of people called this hotline to report their encounters with aliens of the UFO-variety. https://t.co/Cl048Gihnk

— Alexander McCoy (@AlexanderMcCoy4) April 26, 2017
The # for Trump's hotline to report "criminal aliens" is 855-48-VOICE

Please do not call this number to describe plots of X-Files episodes.

— Stabmaster Arson (@dubsteppenwolf) April 27, 2017
Internet trolls brought us Donald Trump, and they can take him down. Call 855-48-VOICE and report your alien sightings https://t.co/f1kQ87UJ1v

— Erika Heidewald 🗽 (@erikaheidewald) April 27, 2017
somebody call 1-855-48-VOICE, an orange colored, toupee wearing alien in a bathrobe has been spotted at 1600 Pensylvania Ave 👽#AlienDay

— modrax (@modrax) April 27, 2017
If any of you need to report space aliens to our government, please call their hotline: 1-855-48-VOICE. Here are some of their Most Wanted: pic.twitter.com/nWnVYdDdpG

— Steven Santos (@stevensantos) April 27, 2017
Sometimes the internet is predictably delightful, and sometimes trolling actually works.
According to BuzzFeed News, officials at US Immigration and Customs Enforcement complained the phone line was quickly "tied up by hoax callers."
Their full statement, via BuzzFeed:
There are certainly more constructive ways to make one's opinions heard than to prevent legitimate victims of crime from receiving the information and resources they seek because the lines are tied up by hoax callers.

We will adjust resources, if necessary, to ensure that the victims for whom this office and hotline is intended get the info and resources they need.
E.T., if you want to fight fear-mongering and racism, just keep phoning home.