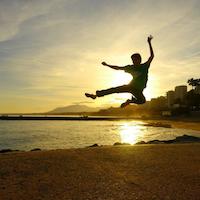 Filed by Mitchell Friedman

|

Mar 17, 2017 @ 8:16am
CNN host Don Lemon invoked one of the most overused movie quotes of all time, but Billy Madison was the only way to make sense of Sean Spicer this time. Spicer offered a rambling defense of Donald Trump's bipartisanly debunked "wiretapping" claims, and Don Lemon could hardly stomach it.
https://www.youtube.com/watch?v=0l5J46Jd6YQ
"Did anyone see Billy Madison, the game show scene?" responded Lemon after playing a brutal clip of Sean Spicer's verbal gymnastics from a Thursday press conference.
You know that quote? "'Everyone in this room is dumber for having listened to that?' I hope that you're not dumber, and I hope that we're providing you information."
"Just to be clear," continued Don Lemon, communicator to millennials, in response to Spicer's claims, "No one mischaracterized what the Senate intel said. Here's the statement: 'Based on the information available to us, we see no indication that Trump Tower was the subject of surveillance by any element of the United States government, either before or after election day 2016.'"
To supplement, here's what the House Intelligence Chairman, a Republican named Devin Nunes, said (via Politico): "Are you going to take the tweets literally? If you are, then clearly the president was wrong."
Terrible! Just found out that Obama had my "wires tapped" in Trump Tower just before the victory. Nothing found. This is McCarthyism!

— Donald J. Trump (@realDonaldTrump) March 4, 2017
Is it legal for a sitting President to be "wire tapping" a race for president prior to an election? Turned down by court earlier. A NEW LOW!

— Donald J. Trump (@realDonaldTrump) March 4, 2017
How low has President Obama gone to tapp my phones during the very sacred election process. This is Nixon/Watergate. Bad (or sick) guy!

— Donald J. Trump (@realDonaldTrump) March 4, 2017
Arnold Schwarzenegger isn't voluntarily leaving the Apprentice, he was fired by his bad (pathetic) ratings, not by me. Sad end to great show

— Donald J. Trump (@realDonaldTrump) March 4, 2017
(That last one's just for fun.)
Spicer's argument seems to be against taking the president's words as words. Here's the transcript of the Sean Spicer comments that Don Lemon was reacting to specifically. Warning: you will be dumber for having read them.
I think that there's been a — a vast amount of reporting which I just detailed, about activity that was going on in the 2016 election. There was no question that there was surveillance techniques used throughout this.

I think by — by a variety of outlets that have reported this activity concluded. So and I think when you actually ask those two people whether or not and as Chairman Nunes said yesterday, when you take it literally in wire-tapping, the president's already been very clear that he didn't mean specifically wire tapping, he had it in quotes.

So I think to fall back on that is a false — is a false premise, that's not what he said. He was very clear about that when he talked about it yesterday, major.