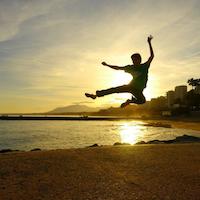 Filed by Mitchell Friedman

|

Nov 09, 2016 @ 8:13am
As Donald Trump gave an acceptance speech calling for Americans to "come together as one united people" and "work together and unify our great country," some viewers believed they heard something incredibly disturbing shouted from his jubilant crowd.
Did someone just shout "Kill Obama"?
😳

— Trevor Noah (@Trevornoah) November 9, 2016
The exclamation wasn't entirely discernible over Trump's speech, but you can listen in the clip below for yourself.
Some thought the man's shout sounded more like "repeal Obama" or "jail Obama." Whatever was shouted seemed to provoke a surprised reaction from Trump's young son, Barron, who was standing next to him.
"Kill Obama" was yelled, clearly heard by those on the stage, and was completely ignored. Perfect example of what we're in for.

— Patti LaHelle (@_maleficentt) November 9, 2016
Why didn't Trump who was giving his "Unite the Country"speech stop this man from shouting "Kill OBama? Uniting!That was the moment of truth.

— Pam Grier Ph.D (@PamGrier) November 9, 2016