President Donald Trump's visit to Paris was an opportunity for many to be refreshed on some middle school skills. First Lady of France Brigitte Macron had to be refreshed on the art of the arm wrestle...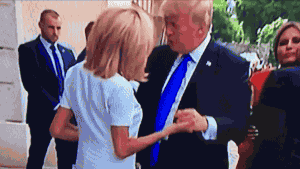 ...and President Trump reminded the world of some very basic things you'll find in any history book—or, you know, Hamilton.
In his opening remarks at their joint press conference, Trump took the opportunity to review some basic American history, noting that "France is America's first and only ally."
He added, seemingly ad libbed, "A lot of people don't know that," which translates to: "I didn't know that."
There's more! Trump added:
A lot of people forget? Well, not anybody who has attended school, or has been literally rapping the name "LAFAYETTE!" since the Hamilton cast recording dropped.
Throughout this history lesson, President Emmanuel Macron delivered an eyebrow raise/borderline eyeroll for the ages.
And as always, Twitter has thoughts.
@BraddJaffy did he even attend 3rd grade? Ever take even one course in Amer History?

— Bill Carter (@wjcarter) July 13, 2017
Thanks for the refresher course, Mr. President. And thanks for the refreshing candor, Monsieur President.