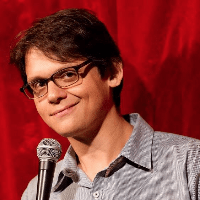 Filed by Matt Nedostup

|

Jul 18, 2016 @ 6:35pm
Cleveland-based journalist Doug Guth is currently covering the Republic National Convention and all the weirdness that goes along with it. He happened to come across artist Sandy Buffie, who had brought her one-of-a-kind dryer lint Donald Trump statue, with the hope of selling it to some patriotic weirdo for charity. But once you see this thing, you might want it for yourself.
It's actually a perfect likeness. The lint manages to capture the texture of Trump's hair like no other medium ever has. (Maybe that's what his rug is made of). His mottled orange skin is well-represented, and she's even duplicated his signature smirk. Not only is this sculpture a fantastic representation of Trump, it would also probably make a better president, like most inanimate objects. At least it never opens its mouth.