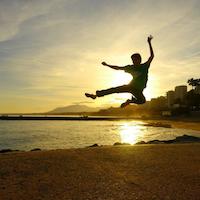 Filed by Mitchell Friedman

|

Nov 30, 2016 @ 8:19am
Of everything to come from Donald Trump's Tuesday night meeting with prospective secretary of state Mitt Romney—and that might include a final decision on that top cabinet position—the following photo is clearly the most important thing:
Because Mitt Romney is being held hostage. Sure, he's being held hostage over a two hour chat and a very populist dinner of frog legs and chocolate cake. Yeah, he emerged from the dinner saying Trump might possibly be "the very man who can lead us to that better future." But still.
There's something in his expression, and in Mr. Trump's eerily illuminated grin (the orange tint makes him look like a jack-o'-lan·tern, that makes it seem like Romney's really, truly, bitten off a bigger frog leg than he can chew here. Here's 15 funny people who found it hilarious.
1.
2.
3.
4.
5.
6.
7.
8.
9.
10.
11.
12.
13.
14.
15.
And this isn't a joke, but it seems necessary for you know to know that this was also part of the menu:
Welcome back to Anthony Bourdain: Parts Unknown—this week we're visiting the Illuminati.