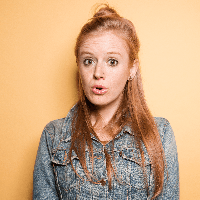 Filed by may wilkerson

|

Nov 08, 2016 @ 5:26pm
Donald Trump, the man who wants to be in charge of America, mixed up the words "county" and "country" on the very day that he could potentially be elected to run the latter. The GOP candidate has apparently regained control of his Twitter account (after it was confiscated for exactly this reason), because he tweeted this today:
Just out according to @CNN: "Utah officials report voting machine problems across entire country"

— Donald J. Trump (@realDonaldTrump) November 8, 2016
Luckily, swarms of tweeters immediately jumped in to hilariously call him out on his error. Here are some of the best, snarky responses:
. @realDonaldTrump Can't tell the difference between country and county, can't run a country or county. Hand your account back to your staff

— Cameron Atfield (@CameronAtfield) November 8, 2016
@realDonaldTrump @CNN WTF would UTAH officials have to do w/voting machines across the country? You're losing. Get used to it. BIGLY.

— Nasty Women RULE! (@58isthenew40) November 8, 2016
.@realDonaldTrump When I pressed Trump the touchscreen burned my finger and said ERROR & when I pressed Clinton a lady gave me $8 please hel

— Fake Bo Pelini (@FauxPelini) November 8, 2016
excuse me but maybe can you stop lying for like one day? Doesn't seem too much to ask for from a Pres candidate thanx

— Matthew Kory (@mattymatty2000) November 8, 2016
And, finally:
Yeah, they seem to be counting more votes for HER than him...it's not a problem, it's called losing.

— J. Lane McMahon (@JLaneMcMahon) November 8, 2016
"IT'S CALLED LOSING."
Once again, in the battle of Trump vs. social media, Trump loses.