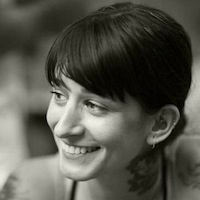 Filed by Jessie Dean Altman

|

Jun 01, 2017 @ 12:05pm
At 3 p.m. today, the world will know whether President Donald Trump plans for America to leave the Paris Agreement, a deal between 195 countries to reduce carbon-based emissions in order to combat climate change. We know he's making this decision today because he announced it via Twitter (probably hoping to get the ratings up).
I will be announcing my decision on Paris Accord, Thursday at 3:00 P.M. The White House Rose Garden. MAKE AMERICA GREAT AGAIN!

— Donald J. Trump (@realDonaldTrump) June 1, 2017
Axios reported that Trump plans on pulling out of the deal, which wouldn't be surprising because he thinks that global warming is a hoax. In fact, in a speech on energy he gave during his presidential campaign, Trump promised he'd rip up the Paris agreement.
Americans support adhering to the Paris agreement, which means they support reducing carbon-based emissions. The results of a Huffpost/YouGov poll taken a few weeks ago found that the 61 percent of Americans want to stay in the agreement, while only 17 percent want to withdraw. (The other 21 percent were unsure).
Wall Street doesn't want Trump to leave the agreement either. CNN reports that today, Washington, D.C. newspapers ran full-page ads of a letter signed by 25 major U.S. firms urging the president to stick with the agreement because of the effect it could have on creating jobs. The letter reads, in part:
"By expanding markets for innovative clean technologies, the agreement generates jobs and economic growth. U.S. companies are well positioned to lead in these markets."
Dear President Trump, as some of the largest companies in the US, we strongly urge you to keep the US in the Paris Agreement. pic.twitter.com/ztSXyYtRrm

— Marc Benioff (@Benioff) June 1, 2017
If the U.S. withdraws, it will be one of only three countries not part of the deal; the other two are Syria and Nicaragua.
You might be wondering, like a lot of Americans, just what exactly is this Paris agreement? Here's a quick primer.
What: The Paris climate change agreement is a deal made by 195 countries that would reduce dangerous emissions (high-carbon energy and fuels) that cause climate change, according to NBC. The agreement is an attempt to prevent the oft-predicted major increase in global temperatures, which leads to melting ice caps, rising sea water, and ensuing distruction.
Why: The Paris agreement was prompted by scientific consensus that the increase in global temperatures we've seen in the past few decades is caused by "man-made activity." In 2014, the United Nations Intergovernmental Panel on Climate Change concluded (with more than 95 percent confidence) that the emissions caused by human activity were "extremely likely to have been the dominant cause of the observed warming since the mid-20th century."
Who: The Paris agreement was signed by President Barack Obama in 2015 but didn't go into effect until November 2016. Upon signing, the Telegraph reported that Obama called it "a turning point for the world," and said it "offers the best chance we have to save the one planet we have. He hoped it would "open the floodgates for low-carbon innovation at a scale we haven't seen before."
And then in 2017 along came President Donald Trump, who in 2012 tweeted that he believed climate change was a hoax created by China.
The concept of global warming was created by and for the Chinese in order to make U.S. manufacturing non-competitive.

— Donald J. Trump (@realDonaldTrump) November 6, 2012
In 2014, Trump tweeted that global warming couldn't be real, because some places were still cold.
Snowing in Texas and Louisiana, record setting freezing temperatures throughout the country and beyond. Global warming is an expensive hoax!

— Donald J. Trump (@realDonaldTrump) January 29, 2014
So, we'll see what happens.
We will update this post as needed once Trump's decision on the Paris agreement is made.