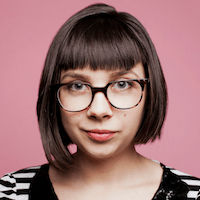 Filed by April Lavalle

|

Oct 26, 2016 @ 11:38am
According to Deadline, at about 5:45a.m. on Wednesday morning, a man dressed as a construction worker destroyed Donald Trump's star on the Hollywood Walk of Fame with a sledgehammer and a pick-ax. The action was captured on video below.
The aggravated Trump protester told Deadline that his name is Jamie Otis. In the video, you can hear Otis say that he is "disgusted" by Trump and that "4 or 5 women" in his family have been sexually assaulted in the past. Otis says that his original intention was to remove the star and auction it off to raise money for the 11 women who have publicly accused the Republican nominee of assault. When Otis discovered that he couldn't remove the star in one piece, he just smashed it up until it looked like a broken eyeshadow.
The star was bequeathed to Donald Trump in January 2007 for his work on The Apprentice. Since Trump announced his candidacy in June 2015, his star on the Hollywood Walk of Fame has been vandalized in many creative ways. It has been adorned with swastikas, had a "mute symbol" spray painted directly over it, and even had a miniature wall erected around it. Although Otis defaced the star, it will probably be fixed or replaced by some poor soul who probably doesn't even support Trump in the deeply blue state of California.
Election day less than two weeks away, so maybe just drink some chamomile tea and chill out instead of risking being thrown in jail by destroying public property. Don't smash. Vote!