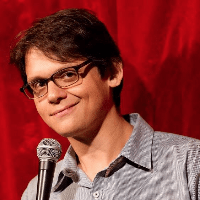 Filed by Matt Nedostup

|

Nov 09, 2016 @ 7:00am
On Tuesday night, Donald Trump stunned every pundit, reporter, egghead, and person with a conscience by pulling off an upset victory and being elected the 45th president of the United States. But because gallows humor is as good a reaction as any, people immediately started making jokes about it on Twitter. A few were even funny.
1.
Good thing we'll have a recount tomorrow since Trump insisted over and over that the election is rigged.

— Fortune Feimster (@fortunefunny) November 9, 2016
2.
We underestimated how popular Ted Nugent is.

— Josh Comers (@joshcomers) November 9, 2016
3.
4.
5.
What a weird way to lose the Cold War.

— Matt Roller (@rolldiggity) November 9, 2016
6.
7.
8.
Super excited to start informing on my neighbors!

— leo allen (@leopoldallen) November 9, 2016
9.
10.
A guest at the Trump party told me, semi-seriously, that I will be safe in a Trump administration because I'm "one of the good ones."

— Olivia Nuzzi (@Olivianuzzi) November 9, 2016
11.
BREAKING: All four jaws have fallen off Mount Rushmore.

— The Bugle (@hellobuglers) November 9, 2016
12.
A year and a half ago Trump was hosting a reality competition on television which is good news for Steve Harvey. #ElectionNight

— Abbi Crutchfield (@curlycomedy) November 9, 2016
13.
so billy bush was the only one the tape leak ended up hurting. cool.

— Jen Statsky (@jenstatsky) November 9, 2016
14.
In the spirit of being a good sport I'd like to offer my sincere congratulations to Vladimir Putin.

— Danny Zuker (@DannyZuker) November 9, 2016