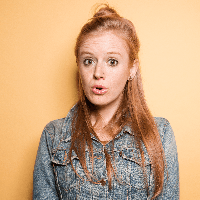 Filed by may wilkerson

|

May 18, 2017 @ 2:40pm
We never thought there'd come a time when seeing George W. Bush in the news would people on both sides of the political spectrum go "Awww! THAT guy!" like he's our goofy, lovable uncle and not the former controversial, war-starting president of the United States.
But here we are.
In keeping with his new role as "goofy uncle," George W. Bush was at last night's Texas Rangers game against the Phillies when he crashed a live broadcast by Fox Sports reporter Emily Jones. Why? Because he wanted to say "hey!" Typical Dubs.
The hilarious moment is going viral on Twitter, because these are stressful times and we need this right now:
George Bush just photo bombed Emily Jones on Fox sports sw broadcast. #Rangers

— Lee Stitzel (@Omicron013) May 18, 2017
Luckily, Jones was not pissed at the interruption. Actually, just the opposite:
"My most favorite photo bomb ever!" she wrote on Twitter.
Hey, remember back in the early 2000s when a lot of Americans thought George W. Bush was the worst president imaginable? LOLOLOLOL.