Gus Kenworthy is an Olympic freestyle skier representing Team USA in Pyeongchang and who looks exactly like Robb Stark. He won a silver medal in Sochi and my heart on Twitter.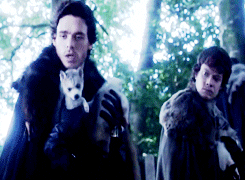 Robb Stark Richard Madden Kenworthy is openly gay, and celebrated the Opening Ceremonies with his fellow gay Olympian Adam Rippon, who pissed off Vice President Mike Pence by speaking up against Pence's harmful, homophobic policies.
Kenworthy tweeted on Thursday that he unfortunately broke his thumb during practice, but thankfully it won't stop him from skiing. He did, however, find a silver lining.
"It does prevent me from shaking Pence's hand so... Silver linings!" Kenworthy joked.
In addition to wishing him well, people loved the Pence joke, except for one dude, to whom he clapped back.
Sorry, lady.
Ya burnt.
Get well soon, Gus! And kill it out there!