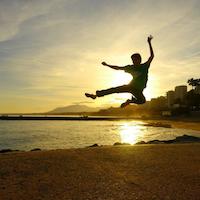 Filed by Mitchell Friedman

|

May 02, 2017 @ 1:34pm
A Trump supporter sent a letter-to-the-editor raging against the non-partisan "Hate Has No Home Here" signs popping up all over his Winchester, Massachusetts hometown. In doing so, he tossed an alley oop to a seventh-grader named Luke Macanucco, who quickly became the clapback king of Winchester.
It's safe to say Luke's response has been a lot more lauded than John Natale's complaint.
This is the type of sign in question:
Natale, angry not only at the "annoyance" of the message but at the fact that his own Trump signs were repeatedly vandalized, argued that "your 'hate' sign is totally uncalled for because it says that Winchester has a hate problem. Where is it?"
Natale contradicts himself in the same paragraph, when he lists the things he hates ("people who subliminally suggest that I am a hater," as well as "politicians who support policies, laws and regulations that I consider unpatriotic, immoral or limit my liberties"), but let's just let this incredible 13-year-old handle the contradictions.
"I read, with great interest, Mr. John Natale's colossal misunderstanding of the 'Hate Has No Home Here' signs," wrote Luke Macanucco."Natale's first mistake was claiming the signs read, 'Hate has no place in this home.'"
Indeed, the signs read "Hate Has No Home Here," not "Hate has no place in this home."
Luke Macanucco continues: "Mr. Natale is incorrectly assuming that the owners of the sign are finding it necessary to state that there is no hate in their home. But, as the American flag depicted on the sign signifies, the posters are referencing the entire U.S.A., a country that does not tolerate hate in spite of its current leadership."
Then the seventh-grader answers Mr. Natale's most pressing questions, which he quotes verbatim before dismantling:
Question: 'What is the evidence that there is significant hate in our community?'

Answer: Me getting called homosexual slurs by students and adults alike.

Question: 'Where, when, and how did you become the Lord High Decider of Morality?'

Answer: Never. We just put a lawn sign down. Calm down, dude.
He drops his proverbial mic with this gem:
"Finally, if you are going to say signs exhibit 'snowflake sensitivity,' take a moment to think about how you are writing an angry letter to a newspaper about a lawn sign."
As celebrities like Chelsea Clinton and Andy Richter retweeted Luke's letter to the angry Trump-supporter, Luke's mother spoke to the Boston Globe about the letter.
"I couldn't believe it," she said. "He kind of wondered if anyone would read the letter. The fact that it wasn't only read in our town, but read everywhere—it's blowing his mind."
Likewise, Luke. Likewise. Read Luke's full letter in the tweet above.