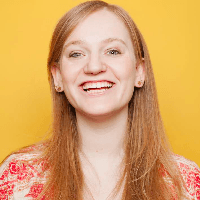 Filed by Orli Matlow

|

Nov 17, 2016 @ 10:20am
In her first speech since conceding (and winning the popular vote by over two million), Hillary Clinton called on America not to give up on the good fight.
Clinton emerged from the woods to speak at a Washington, D.C. event for the Children Defense Fund, where she got her start as an intern over 40 years ago.
"Coming here tonight wasn't the easiest for me," she said. "There have been a few times this past week that all I wanted to curl up with a good book, or our dogs, and never leave the house again." (Same, and I didn't spend my whole life gearing up for what I thought would be my destiny.)
Poised but vulnerable, you couldn't help but want to give her a hug. Clinton expressed how disappointed she is in the election results, without explicitly saying the T-word (Tr*mp).
The Democratic nominee for president reiterated what she said in her concession speech: The campaign was about more than just her, it was about resisting fascism and making sure Mr. T doesn't end the American experiment. Transcription via Slate:
I know many of you are deeply disappointed about the results of the election. I am, too. More than I can ever express. But as I said last week, our campaign was never about one person or even one election, it was about the country we love and about building an America that is hopeful, inclusive, and big-hearted.
I know this isn't easy. I know that over the past week a lot of people have asked themselves whether America was the country we thought it was. The divisions laid bare by this election run deep. But please listen to me when I say this: America is worth it. Our children our worth it. Believe in our country; fight for our values; and never ever give up. Because over the past two years I've met so many people who have reaffirmed my faith in our country …
TL;DR, never give up. Stay engaged. Especially not now, when the vulnerable might need us most.
View the whole speech and try not to cry.