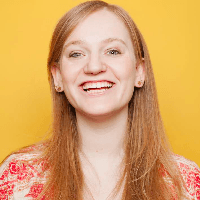 Filed by Orli Matlow

|

Nov 15, 2016 @ 1:17pm
As her Donald Trump tries to prepare to become one of the most powerful people in the world, his five year old granddaughter has become a powerful figure overseas. Ivanka's daughter, Arabella Kushner, just might be appointed ambassador to China (or Secretary of State!) after a video of her speaking Mandarin went viral.
The video of Arabella's "pre-bedtime Chinese New Year party" was posted onto Weibo, a social media platform that's allowed in China.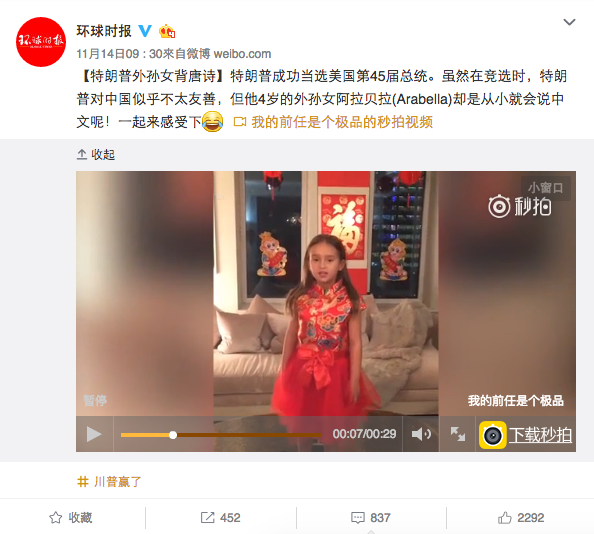 Ambassador Arabella is reciting the famous poem "Sympathy for the Peasants" by Li Shen, about the toils and strife of rice farmers.
Chinese commenters loved the video, both reveling in its cuteness and cracking jokes about the election.
According to The Washington Post, one the commenters joked, "Trump tries to know whether Chinese people secretly say bad words about him, so he lets his granddaughter study Chinese."
Arabella's new fans have flocked to the original page.
Here's another video of her at her Sunday morning Mandarin lessons.
Arabella must love her traditional Chinese outfit. Here she is wearing it with her firefighter brother, Joseph, bopping to a Mandarin children's song.
A post shared by Ivanka Trump (@ivankatrump) on
Ivanka posts videos of her cute kids all the time. Probably because she's a proud parent, but you can't help but think how her kids' cuteness is being used to humanize the Trump #brand.
Is that too cynical? This election just might have turned me into stone.
Anyway, here's another video of cute kids, who should not be blamed for their parents' and grandparents' indiscretions!
A post shared by Ivanka Trump (@ivankatrump) on