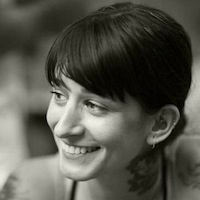 Filed by Jessie Dean Altman

|

Jun 07, 2017 @ 9:10am
This week's Us Weekly cover features none other than First Lady Daughter Ivanka Trump, with a headline screaming: "Ivanka Takes a Stand: WHY I DISAGREE WITH MY DAD." The story, it turns out, isn't actually an interview with Ivanka, it's just a round up of things she's said in interviews with other publications, as well as information from sources and things she's told Us Weekly in the past.
The Ivanka story took the spotlight from what would have been the main cover story, and what was actual news: Ariana Grande's Manchester benefit concert, and her visits to fans who were hospitalized in the Manchester attack after her concert in May.
And in case you were wondering why Us Weekly was into giving Ivanka's brand a positive boost, the answer is because, according to The Hollywood Reporter, the magazine is now owned by American Media Inc. That's same company that owns the very Trump-friendly tabloid, the National Enquirer.
The headline of the feature inside the magazine reads, "How Ivanka Trump Influences Her Father Donald Trump." Um, not very well, apparently.
In the distance, the sound of fingers flexing and knuckles cracking was heard, as Twitter immediately took Ivanka Trump and Us Weekly to task.
IVANKA TAKES A STAND and puts a plant on it because it's a plant stand oh wait did you think we meant the metaphorical kind of stand lol no

— Jesse Berney (@jesseberney) June 7, 2017
Ivanka is doing damage control for herself and her family brand. "I may lose, but maybe along the way I've modified [Trump's] position." pic.twitter.com/3RH8lNdRQt

— Christina Wilkie (@christinawilkie) June 7, 2017
Ivanka says, "My father listens to me. I'm a good influence." When her father twists the heads off kittens, she smiles and looks away.

— Chuck Wendig (@ChuckWendig) June 7, 2017
Oh Us Weekly. Seeing this is like encountering the zombie version of your former beloved friend and u have to weepily crush its zombie skull https://t.co/eZSqPEeDjr

— Emily Gould (@EmilyGould) June 7, 2017
On one hand Eric Trump says people that disagree with his dad aren't people, on the other hand Ivanka's people want you to know something: https://t.co/tvp2hQ217N

— LOLGOP (@LOLGOP) June 7, 2017
And one person brought up a terrifying idea....
guys

what if ivanka's running

— Ariel Edwards-Levy (@aedwardslevy) June 7, 2017