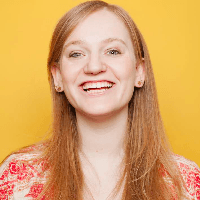 Filed by Orli Matlow

|

Feb 10, 2017 @ 2:18pm
Today in "Real life is Veep," Donald Trump welcomed Japanese Prime Minister Shinzo Abe to the White House and made things weird with his long, lingering touch.
Abe's reaction quickly became a meme seen 'round the world, as his expression is, truly, all of us.
If you didn't catch the dialogue:
Trump asks Abe what a Japanese photographer was saying and Abe translates: "Please look at me."

Trump looks at Abe.

He's so dumb, guys.

— Jesse Berney (@jesseberney) February 10, 2017
After the 19 seconds of contact, Abe couldn't help but display his relief.
It's just as cringeworthy in this different angle and lighting.
And the memes began to flow.
Abe: Ok, you can let go now
Trump: I own Japan now.
Abe: That's not how this works
Trump: I'm sorry I dont understand Chinese
Abe: Fuck you https://t.co/dnUinvxNh3

— Efren (@GsanchezEfren) February 10, 2017
Despite the awkwardness, Trump was very complimentary of Abe's handshake skills. Perhaps he lingered for 19 seconds to hold onto the magic.
In Oval Office, POTUS told Japanese PM Abe he had "strong hands."

— Jim Acosta (@Acosta) February 10, 2017
Hope this humiliation doesn't mean war with Japan.