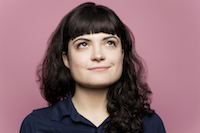 Filed by Jaime Lutz

|

Mar 10, 2016 @ 3:35pm
So, Page Six is reporting that rapper Kanye West supports Donald Trump's campaign for president, even though the entire Kardashian clan sans Caitlyn Jenner supports Hillary Clinton's campaign for president. And even though West has donated $2,700 to Clinton's campaign and tons of other money to Democrats in general.
The basis for this claim is a little dodgy: apparently, an airline passenger overheard West sharing his political views with someone else onboard. "He's not going to vote for Trump but he supports him," Page Six's source says. What does that even mean?!?!