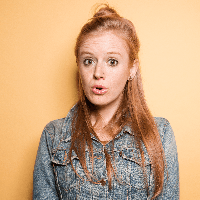 Filed by may wilkerson

|

Feb 15, 2017 @ 4:00pm
Kellyanne Conway had a pretty rough Valentine's Day. First, she was interrupted mid-REM cycle to appear on The Today Show, where she was brutally taken to task by Matt Lauer on the subject of Flynn's resignation.
After the interview, in which Trump's top advisor appeared even shakier and flakier than usual, people began to speculate that she was about to get fired:
*watches Matt Lauer interview*

*calls Vegas bookie*

*gets odds on Kellyanne Conway being fired*

*places bet*

— ㅤㅤㅤ (@karin_cochran) February 14, 2017
Whoa. When Matt Lauer succeeds in schooling you on malfeasance you're officially dunzo. I hear Chaffetz needs a PR Specialist, Kellyanne. https://t.co/RAPwFabMSR

— Eileen De Freest (@eileendefreest) February 14, 2017
Then late last night, a tech CEO named William LeGate noticed that Donald Trump, the White House and the President's account were no longer following her on Twitter:
This does seem like a huge red flag.
LeGate then speculated how they would go about firing her:
@realDonaldTrump

But will she be fired over Twitter? Or are we gonna have to tune into the next episode of Spicer's morning show???

— Trump's Ratings: 38% (@williamlegate) February 14, 2017
(That would be an inconsiderate Valentine's Day gift, but Trump's administration aren't exactly known for their consideration of people's feelings.)
But THEN things got more interesting. It seems The Donald saw what was going down, and quickly put the rumors to rest by re-following Kellyanne:
And according to this Business Insider article from early February, it looks like he never followed her to begin with.
But at this point, rumors of the mass unfollowing had already spread through the internet like wildfire(d).
I hear Donald unfollowed Kellyanne
What? No way
Yes way. Everyone in homeroom was talking about it
What the natural fuck?
I know, right?

— (((Dan Ewen (@VaguelyFunnyDan) February 15, 2017
Donald Trump just unfollowed Kellyanne Conway on Twitter, which is the 2017 version of removing her from his Top 8 on Myspace. Uh oh 💔

— RickyFTW (@rickyftw) February 14, 2017
Trump unfollowed Kellyanne on twiter? OMG! Also I feel like I'm 17 again.

— Scott Weinberg (@scottEweinberg) February 15, 2017
Us too, Scott Weinberg. Us too.
It looks to be just a rumor for now, so we may still be seeing Kellyanne around for at least a while longer. But if alt-facts aren't for you, you can tune into Morning Joe. Co-host Mika Brzezinski said today that Conway will be banned from the show for spewing "alternative facts" lies.
At least she got fired from something, kind of.