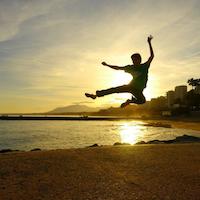 Filed by Mitchell Friedman

|

Mar 14, 2016 @ 12:34pm
Back in January, a comedy duo called The Good Liars appeared at a Trump rally to call him "boring" in the guise of annoyed supporters. They pulled another stunt again on Sunday, this time at a Marco Rubio event—and the candidate actually used the disruption to score a pretty decent line.
"I didn't even win New Hampshire!" laughed a pretty-funny Rubio, responding to the actor's claim that "Marco Rubio is trying to steal my girlfriend." He also used the incident to score points against Trump, saying, "It's ok, we don't beat up our hecklers."