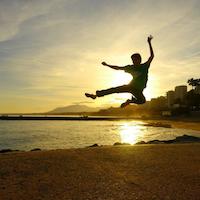 Filed by Mitchell Friedman

|

Nov 07, 2016 @ 10:43am
Of all the unintentional comedy this election season, the phrase "mazel tov cocktail" is making a last minute push for the crowning moment of comic relief.
On Sunday, a Trump surrogate named Scottie Nell Hughes attempted to disparage Clinton surrogate Jay Z for featuring a Molotov cocktail in a 2012 music video for "No Church in the Wild."
Instead, she said this:
Hughes was properly embarrassed for her slip of the tongue:
@RoySekoff @CNN trust me.. I realized at that moment, I should have taken a nap at some point the last 24hrs.

— Scottie Nell Hughes (@scottienhughes) November 7, 2016
And Twitter was properly delighted.
Mazel Tov cocktail recipe:

One part vodka
Two parts tonic water
Dash of Manishevitz
Copious tears from parents upset at your life choices.

— Daniel W. Drezner (@dandrezner) November 7, 2016
It's called a Mazel Tov Cocktail because after you throw it, you have to say "Mazel Tov" in a Schwarzeneggerian dead pan.

— Jonah Goldberg (@JonahNRO) November 7, 2016
"Mazel Tov" cocktail sounds like a dreidel drinking game

— Local Robot Overlord (@Impybat) November 7, 2016
So, are we all drinking celebratory Mazel Tov cocktails tomorrow night? How do we make them? Is it like a Manischewitz spritzer?

— Suleikha Snyder (@suleikhasnyder) November 7, 2016
A mazel-tov cocktail is what you order at a wedding when all ur jewish relatives are like "SO WHEN ARE YOU GETTING MARRIED?!"

— Jesse McLaren (@McJesse) November 7, 2016
@Deadspin Manischewitz and premium super unleaded. Nothing under a 92 octane rating.

— Andrew Ryan Fox (@KillAndrewFox) November 7, 2016
Mazel tov cocktails are the same as regular cocktails except they come with a reminder from your mother to send thank you notes pic.twitter.com/hQatAFSdyC

— (((Yair Rosenberg))) (@Yair_Rosenberg) November 7, 2016