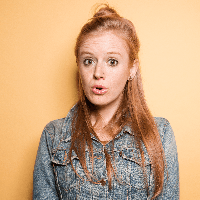 Filed by may wilkerson

|

Feb 17, 2017 @ 4:00pm
Melania Trump is having a rough week on Twitter. Luckily for her, she seems completely unaware of it. First she started the #PowerOfTheFirstLady hashtag and got massively trolled, but kept tweeting the hashtag.
Then, the First Lady was visiting the Smithsonian's National Museum of African American History and Culture in DC on Wednesday, and someone took a photo of her, which she tweeted out:
"It was an honor to visit the Smithsonian National Museum of African American History," she wrote.
But as many people were quick to point out on Twitter, it appears a man standing behind her is rolling his eyes straight out of his head:
As Cosmo pointed out, his positioning close to Melania suggests he's probably Secret Service, which would make this (probably accidental?) photobomb even funnier.
As at least one person noted, the pic is kind of "ironic" given Trump's terrible track record on race (i.e. he may or may not know who Frederick Douglass is):
@FLOTUS getting rid of the ACA disproportionately disadvantages black women- do something for your people. Don't just take pics in museums.

— Maggie Kuenzi (@MaggieVanWinkle) February 16, 2017
Then, a bunch of people used the opportunity to troll Melania and her hubs:
In Melania's defense, she hardly ever sees him!
Someone should probably teach the First Lady about Twitter. On second thought, don't do that. Melania #TwitterFails give us too much joy in these dark times.