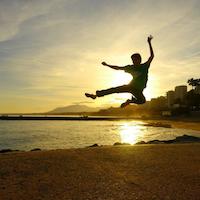 Filed by Mitchell Friedman

|

Mar 21, 2017 @ 2:56pm
Mike Huckabee, former Governor of Arkansas and Fox News whoopee cushion slowly letting out air, spent his Tuesday afternoon making truly bad jokes. Really, terribly, quite bad jokes. Some have called them "dad jokes," but they're really "bad jokes." See, that's a dad joke.
Commenting on the hearing for Supreme Court nominee Neil Gorsuch, Huckabee's offered the following zingers:
Leahy at Gorsuch hearing is more effective than Ambien in inducing sleep; He makes Hillary look like a candidate for Dancing w/ the Stars!

— Gov. Mike Huckabee (@GovMikeHuckabee) March 21, 2017
Breaking News! Jimmy Dean Sausage Co will be renamed GORSUCH SAUSAGE because he's grinding up some Democrat Senators into PURE PORK SAUSAGE!

— Gov. Mike Huckabee (@GovMikeHuckabee) March 21, 2017
Watching Foghorn Leghorn cartoons on TV...NO WAIT-it's just Senators at Gorsuch hearing making Foghorn look smart. https://t.co/uKRtYVMhjs

— Gov. Mike Huckabee (@GovMikeHuckabee) March 21, 2017
Lots of people make lots of really dumb jokes on Twitter. That's why it's just astounding that this bad comedy is powerful enough to attract the attention of so many actually funny people.
Luckily, some humor has come out of the Mike Huckabee jokes, in the form of reactions from said funny people to the said unfunny Mike Huckabee.
Mike Huckabee should be forced to perform a drop-in set at any comedy club in America and bomb live as badly as his Twitter jokes deserve.

— Josh Gondelman (@joshgondelman) March 21, 2017
Mike Huckabee has the sense of humor of someone who was trapped underwater for two minutes and then forced to tell jokes at gunpoint.

— Kashana (@kashanacauley) March 21, 2017
girl, are you a Mike Huckabee joke, because you're incomprehensible and covered in flop sweat and everybody hates you

— Tom McAllister (@t_mcallister) March 21, 2017
Mike Huckabee went from having Presidential aspirations to being a guy who trends whenever he does a shitty dad joke on Twitter

— Juggalocialism (@UweBollocks) March 21, 2017
Here's where this fun, stupid story takes a very dark turn. Horrifying, but important to point out, is the fact that many people are dragging Huckabee for something his son allegedly did at a Boy Scout camp in 1998.
Reportedly, Huckabee's son killed a dog. A lot of the Twitter responses to Huckabee focus on this horrifying thing. We don't want to post those jokes, but if you explore the trending topic—you'll come across them.
So suffice to say, if you are terrible at comedy, and you have a demon in your closet as absolutely terrible as that one, maybe save your terrible jokes for your terrible private parties. This tidy moral applies only to Mike Huckabee.
In conclusion, Mike Huckabee is not a comedian.