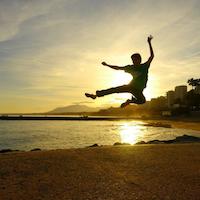 Filed by Mitchell Friedman

|

Mar 29, 2017 @ 10:27am
The Washington Post released an illuminating profile about Karen Pence, the wife of Vice President Mike Pence and apparently "one of Trump's staunchest defenders overall." Besides featuring a hilarious photograph of Mike Pence holding a massive umbrella and sporting an all-denim suit, the piece is worth a read for this intriguing nugget about their marriage:
In 2002, Mike Pence told the Hill that he never eats alone with a woman other than his wife and that he won't attend events featuring alcohol without her by his side, either.
The Hill article isn't currently available on the newspaper's website, so we have precious little context for the anecdote. But at face value, the revelation about Mike Pence's "Mother" (Mike Pence calls his wife "Mother") seems to confirm the very male Trump administration's lack of self-control around women. At the very least, it exhibits Pence's very old-fashioned, sign-legislation-about-women-without-a-woman-in-the-room world view.
The implication of his position is that, were his wife not there, Mike Pence at a party with alcohol wouldn't be able to restrain himself.

— Anand Giridharadas (@AnandWrites) March 29, 2017
Our VP doesn't trust himself around women so he removes temptation instead of exerting self-control. He & Trump are dif sides of same coin https://t.co/JGCZ2KmZj4

— Nell Scovell (@NellSco) March 29, 2017
This makes Mike Pence look like a man so uncomfortable with women that he can't even have dinner or a drink with a friend before it crosses a personal moral boundary. Is the man capable of any platonic relationships with the opposite sex? Or does he live his entire life as overused comedy premise?
This has led to some hilarious, and some not-so-hilarious, ideas about Mike Pence.
what if "the resistance" is just surrounding mike pence with women until he loses his mind

— Steve Kandell (@SteveKandell) March 29, 2017
No wonder there are never any women in the White House photographs. Mike Pence is terrified that he might have sex with one by accident.

— Anand Giridharadas (@AnandWrites) March 29, 2017
Sincere question. How is this different from extreme repressive interpretations of Islam ("Sharia Law!") mocked by people like Mike Pence

— Xeni Jardin (@xeni) March 29, 2017