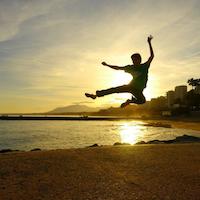 Filed by Mitchell Friedman

|

Feb 22, 2017 @ 8:26am
Early in February, Mitch McConnell unwittingly coined a viral rallying cry for his opposition, and on Tuesday it jumped right off the internet right and into his face.
At a luncheon for his Kentucky constituents, according to the Huffington Post, a woman stood up to ask a question. She began by telling Mitch McConnell she loved him. "Thank you, I need that," responded the Senate Majority Leader, who, it may come as some surprise, is capable of feeling love.
Things escalated after that. When we tune in for the following clip, the constituent is absolutely furious.
"If you can answer any of that, I'll sit down and shut up like Elizabeth Warren."
Although the mood inside the luncheon wasn't parallel with the nearly 1,000 lively protesters outside, according to local outlet WHAS, the woman in the video above demanded an answer from McConnell about ailing veterans and coal mine workers.
The conclusion of her speech—"If you can answer any of that, I'll sit down and shut up like Elizabeth Warren"—was a reference to McConnell's silencing of Senator Warren in the Senate, a move he justified with the cement-dense quote:
Sen. Warren was giving a lengthy speech. She had appeared to violate the rule. She was warned. She was given an explanation. Nevertheless, she persisted.
Mitch McConnell never gave his constituent her answer. He did, however, grin like a frog and tell her, "I hope you feel better now." Then he called on a man to ask a different question.
You can watch the full exchange at the 22:00 mark.
https://www.youtube.com/watch?time_continue=1371&v=dVXAVz9vCm0