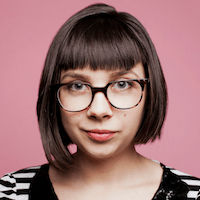 Filed by April Lavalle

|

Feb 21, 2017 @ 1:22pm
Donald Trump can hardly speak one language, but thanks to Nyle DiMarco, you'll be able to quote the president's most-used Twitter phrases in two. DiMarco, who won America's Next Top Model and Dancing with the Stars, was born deaf and often takes to social media to teach his fans American Sign Language (ASL) as well as educate them about deaf culture. (P.S. The sexually fluid model is also really hot.)
Nyle noticed that many of his followers are requesting lessons on Trump's, uh, "creative" vocabulary. Well, ask and ye shall receive, folks. Nyle walks us through how to sign all the hits including "Make America great again!" "fake news," and, of course "SAD!"
Nyle DiMarco openly supported Democratic nominee Hillary Clinton in the 2016 presidential election. During a gala for the Human Rights Campaign last year, DiMarco even joked that he was especially thankful for being deaf during the race.
"For me and for many of us, it is an advantage and it's a part of my identity in fact. It's a huge part of who I am," he added. "In this very turbulent political year, trust me, don't you want to sometimes just turn the volume off completely when Donald Trump starts to rant?"
Hey, Nyle. Is there a sign for bigly?