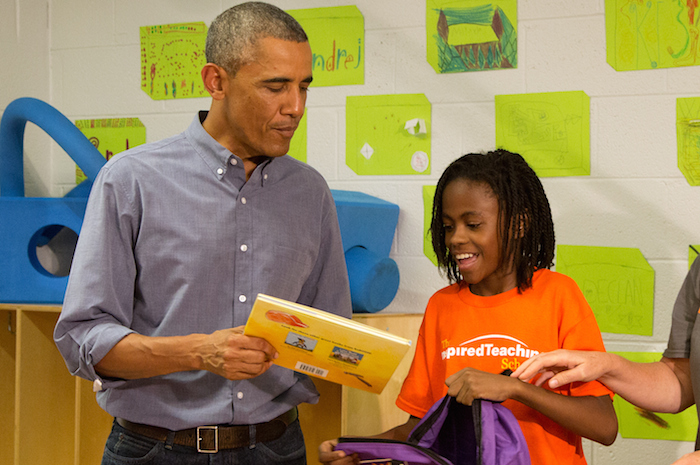 "Does Beyoncé have drones, kid? No? Maybe you better pretend to be excited, then."
(via Getty Images)
Not being Beyoncé is a shortcoming that each and every one of us has to face in our lives—even the President of the United States of America. Barack Obama, 44th Commander-In-Chief and Leader of the Free World, visited an elementary school in Washington, D.C. to help the kids with a service project they were doing to commemorate 9/11. The first African-American president in history was excited to prepare backpacks full of donated toys and books for homeless children with a 6th grader named Madison, but she was less than thrilled. She explained that when she was told there would be a very special guest, she assumed it would be Beyoncé. 
"I really wanted it to be, but then I realized it was gonna be you," the overly-honest sixth grader told the President.
"I understand," replied the President, "Malia and Sasha would feel the same way." Malia and Sasha and everyone on Earth, bro.

Watch more news videos | Latest world news
Madison tried to walk back her statement in order to avoid hurting the poor President's feelings any more by adding, "and that's even better!" The President is a smart man, however, and wasn't buying it. "I appreciate you saying that in front of the press. I know it's not really true," replied Obama, only to have the First Lady chime in to agree, saying "I'd rather see Beyoncé" right in her husband's face.
Meanwhile, Beyoncé has yet to announce when she will let us elect her President.
God bless the United States of Beyoncé.
(by Johnny McNulty)