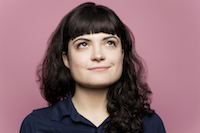 Filed by Jaime Lutz

|

Jul 19, 2016 @ 6:35pm
Here is a video of a young, possibly drunk protester who was outside the Republican National Convention in the wee hours of July 19. There is not much to say about her, except "wow." Others have noted the crazy similarities between her speaking style and a certain Cecily Strong character from Saturday Night Live's 'Weekend Update':
The smoking woman, armed with a megaphone, veers wildly between the NBA championship, her abortion, "working for the steel mill, working for the taxes," not having health insurance, "I don't even want to talk about my medical bills," doing "art therapy for mental health counseling," playing the victim card, "I'm 27, I accept these things," and helping "the schizophrenics."