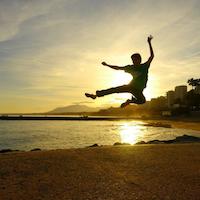 Filed by Mitchell Friedman

|

Apr 03, 2017 @ 8:35am
Sunday was World Autism Awareness Day, and Paul Ryan saw the perfect opportunity to balance out his zeal for cutting Medicaid, a program that benefits people with autism. A handy blue pin! This makes up for everything, right?
Lauren Rabin, the founder of the Autism Family Center, gave a comprehensive review of how Paul Ryan's replacement for Obamacare would affect coverage for autism. Suffice to say, it's complicated—but the cuts to Medicaid, that Paul Ryan has said he "dreams" about—would have "serious consequences" for "low-income Americans" with Autism Spectrum Disorder. Rising costs for "people in need of constant care," like "those seeking treatment and therapies for ASD" would also hurt.
The Twitter reactions to Paul Ryan's hypocrisy were furious.
@SpeakerRyan Great pin! Now you're still committed to stealing autistic people's healthcare, right?

— Dennis Perkins (@DennisPerkins5) April 2, 2017
@SpeakerRyan A pin.
This is so offensive to those of us who have autistic children, you have no idea.
Unbelievable.

— Holly O'Reilly (@AynRandPaulRyan) April 2, 2017
@SpeakerRyan You could not be more fake! You try to destroy healthcare than pretend to support autism? Autism requires research & Healthcare! #RyanLies

— Patti Crossan (@pmohs) April 2, 2017
@SpeakerRyan Wearing a pin doesn't mean you support Autism awareness, just like wearing a flag pin means your a patriot. Actions not symbols!

— Yooper Moose (@yoopermoose) April 2, 2017
But it's perhaps this one specific interaction that's the most troubling for some:
Get educated, and don't rely on a pin for healthcare.