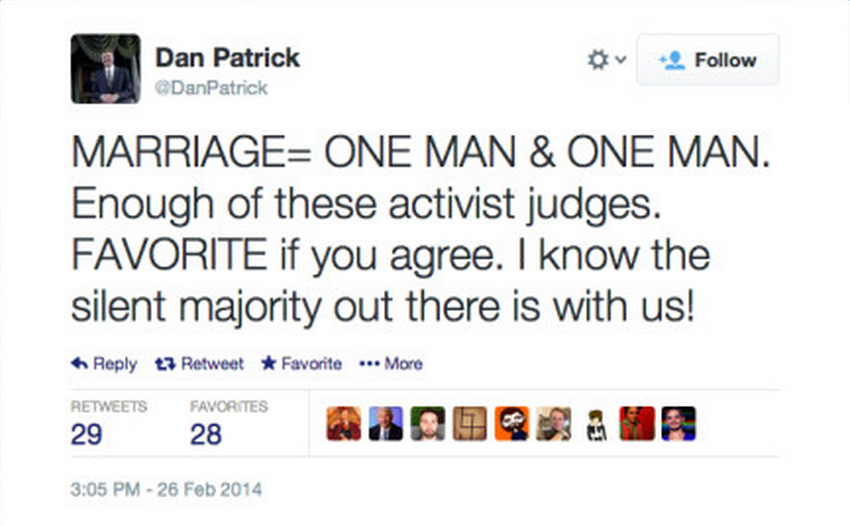 That is so pro gay. (via TPM)
When you're a Republican State Senator, it's pretty much expected that you stand up for traditional marriage. And when you're a Republican State Senator from Texas, you need to be loud and proud about letting everyone know what you think about gay marriage. So you can only imagine the butt-hurt incurred when a tweet was posted to the account of Texas Republican State Senator Dan Patrick announcing with all-caps clarity that "MARRIAGE=ONE MAN & ONE MAN."
All-caps OUCH! The tweet was deleted pretty quickly and replaced by a much more appropriate, which is to say inapropriate, tweet which he felt the need to send out three times, in case voters were worried he'd become insufficiently anti-gay.
I want to re-emphasize my long held position: Marriage is between 1 man and 1 woman. Period. Join us : http://t.co/8rERPM4IXE

— Dan Patrick (@DanPatrick) February 26, 2014
Period! End of sentence! God made Adam and Steve, Not Adam and Eve! Wait, scratch that!
The pro-gay marriage tweet must have made for a tough morning for the Senator's staff. But it looks as though the Twitter snafu wasn't a total loss for Team Patrick, because a follow up tweet was sent out to announce that a job opening had just been made available.
oops! #twittertypo. We have a new job opening on our campaign: social media intern. Send resume to contact (at) http://t.co/8rERPM4IXE

— Dan Patrick (@DanPatrick) February 26, 2014
While it's not stated in the tweet, I think it's safe to say that only anti-gay, DETAIL-ORIENTED applicants need apply.
(by Jonathan Corbett)