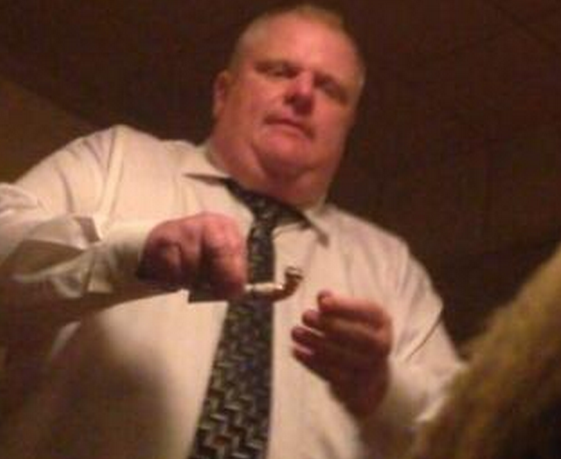 Rob Ford preparing for rehab. (via)
Everyone's favorite tweaking Teddy Bear, Toronto Mayor Rob Ford, just spoke with the Canadian press and says that the rehab he claims to be at is going so well that it sounds like he's not actually getting treatment. "Rehab is amazing. It reminds me of football camp," he told the Toronto Sun. "I"m working out every day and I am learning about myself, my past and things like that." Rob wouldn't say where he is, or if he is even in Canada, which is understandable considering there's a good chance Rob has no idea where he is.
Based on his comments, there are a few likely scenarios:
1. Rob is in a terrible rehab facility where they spend a lot of time on punt, pass and kick drills, and Rob is learning how to stay off drugs by becoming a better offensive linemen.
2. As a kid Rob attended the weirdest football camp ever, where players sat around in a semi-circle, drinking coffee, writing letters to people who have been hurt by their reckless behavior, and talking about their innermost fears.
And the most likely...
3. Rob isn't actually in rehab, but hidden out in a motel room smoking crack.
The sad truth is, even though the citizens of Toronto have proven to be the most forgiving people on the planet, the city's chief executive crackhead has provided zero reason for anyone to believe that he's telling the truth about his whereabouts, his sobriety, or pretty much anything else.