How is there not a standing Toronto PD order to take this man home on sight?
(via CBC News)
Despite promising to stay off the sauce in the wake of his crack-smoking scandal, Rob Ford admitted to drinking "a little bit" last night after being confronted with this video. Strangely, his brother Doug insists that this video was not shot last night, which means that either way Rob Ford was blackout drunk last night (and some other night in the past when he did this), and he's had too many other blackout nights not to know that this wasn't recent. On top of all of this, his Jamaican accent is terrible.
In the video, he can be seen (in between awkward explosions of "bumbaclot!") discussing police and press surveillance of him and his driver since the crack story broke, specifically calling out that "c***s***er, Chief [Bill] Blair," saying, "they're chasing me around five months. They're counter surveillance me. He's hiding here, he's hiding here. F*ck off!"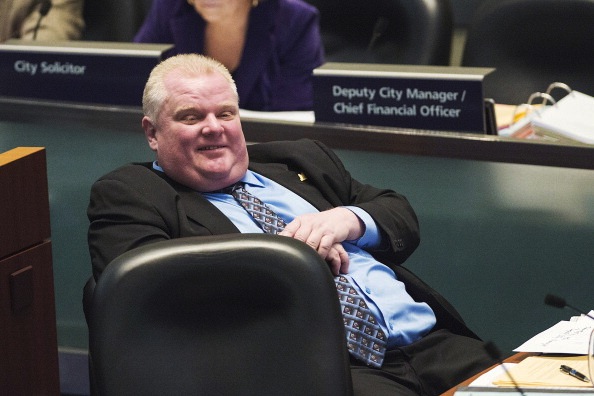 Rob Ford in one of his rare, fleeting, not-all-that-ridiculous moments. (via Getty Images)
He wraps it up by reminding everyone that he's a straight-up guy, and asks who else would visit a list of more neglected neighborhoods. Not that he was doing that, exactly; he was visiting a Steak Queen in the Rexdale neighborhood of his home district of Toronto, the more suburban Etobicoke. Yes, Rob Ford is from a place with the word "coke" in it. I'm sorry I didn't bring this to your attention sooner.
Meanwhile, Doug Ford amazingly continues to insist his brother hasn't been drinking.
(by Johnny McNulty)