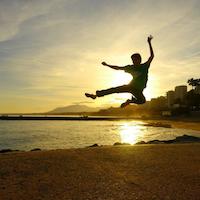 Filed by Mitchell Friedman

|

Feb 24, 2017 @ 8:26am
Fox News host Sean Hannity apologized for retweeting a fake news story about John McCain in which, so went the caption, "globalist war criminal John McCain requested campaign donations from the Russians!"
The exclamation point was there to show you that you should be outraged! But of course the information came from Gateway Pundit, sourcing "Reddit users" and rehashing a discredited 2008 non-story over a computer error. It's not the first time Hannity's been misled by the blog.
My retweet of John McCain story I did say the words "if true". Gladly it turns out it was not true.

— Sean Hannity (@seanhannity) February 23, 2017
Getting worked up as his apology rambled into a third tweet, Sean Hannity defended himself. Twitter, according to Hannity, is just a silly social media platform. He has a point, it's not like the president uses Twitter religiously as a crucial part of his communications strategy or anything.
"THIS IS TWITTER!!" said Hannity. It's just for posting photos of your chicken sandwich, or musing about Taylor Swift's chicken sandwich, or spreading misinformation to serve a political agenda. Nothing serious.
Hannity's been bashing the media for years about being sloppy and inaccurate. Would've taken 30 seconds to figure out that GP story was fake

— Leon Wolf (@LeonHWolf) February 24, 2017
Sean Hannity did apologize to John McCain. And in fairness to the Fox News pundit, it's not like he ever rails against the spread of "fake news" on his show:
In related news, Gateway Pundit has been granted White House press credentials.