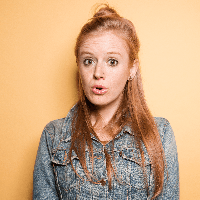 Filed by may wilkerson

|

Mar 24, 2017 @ 1:00pm
Well, a bunch of old white men with no uteruses are currently determining the fate of women's health care. But at least they have a "sense of humor" about it! Republican Senator Pat Roberts, from Kansas, made a real wise-cracker yesterday when Talking Points Memo reporter Alice Ollstein asked him if he supports scrapping "essential health benefits," which would require insurers to cover things like mammograms for breast cancer screening.
This was his response:
I asked Sen. Roberts if he supports scrapping Essential Health Benefits. "I wouldn't want to lose my mammograms," he snarked. #AHCA

— Alice Ollstein (@AliceOllstein) March 23, 2017
Twitter did not find his "joke" very funny.
Though some of their responses are hilarious.
If you call Pat Robert's office, let them know that 1 in 8 women in the U.S. has breast cancer. Then tell him to go shove it. https://t.co/eg641tcwD4

— Lily Herman (@lkherman) March 23, 2017
Others pointed out that the "joke" was not only insensitive but ignorant. Because men can get breast cancer, too.
I have a friend named Tom who was diagnosed with stage two breast cancer. He's currently going through chemotherapy. Sen. Roberts is a jerk. https://t.co/B4uh9ijfAZ

— Stacey Gotsulias (@StaceGots) March 23, 2017
After the backlash, Roberts apologized in a statement, CNN reports. He said:
I deeply regret my comments on such an important topic. I know several individuals whose lives have been saved by mammograms, and I recognize how essential they are to women's health. I never intended to indicate otherwise, and I apologize for my comments.
The Senator also tweeted this:
I deeply regret my comments on a very important topic. Mammograms are essential to women's health & I never intended to indicate otherwise.

— Pat Roberts (@SenPatRoberts) March 23, 2017
And it didn't take long for someone to point out the irony.
GOP leadership is in talks now on how to no longer make mammograms an "essential" benefit—a move Roberts supports. and yet he tweets this. https://t.co/H6b9VQGkAK

— Taniel (@Taniel) March 23, 2017
Ok, Senator Roberts. I'll forgive you (maybe) when you stop trying to take away lifesaving health coverage for women.
To be fair, maybe comedy is just not GOP politicians' strong point. Also not their strong point? Politics, IMHO.