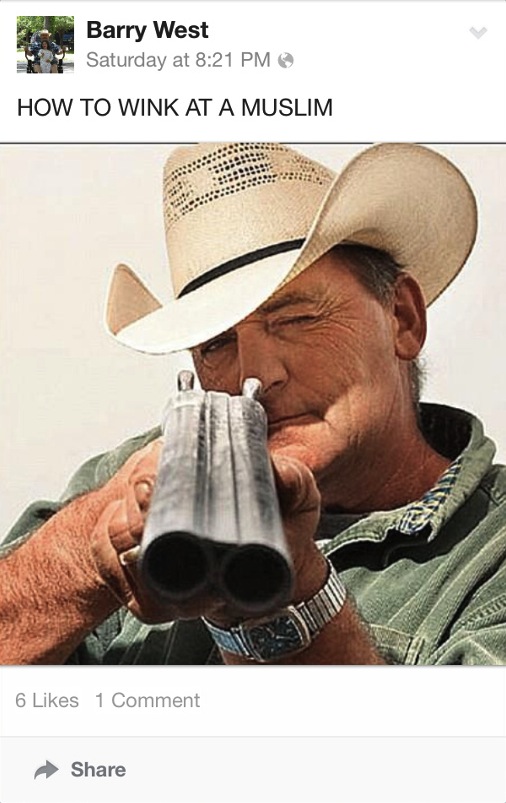 Before you ask, no, that strapping gentleman isn't Barry West. This gross f*** is Barry West: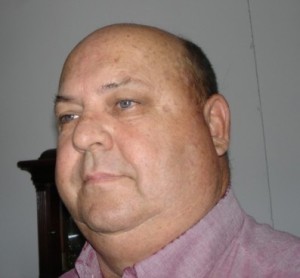 "They wanna come here and destroy our freedom to be beady-eyed, racist morons!"
Barry West is a two-bit, no account, ugly, stupid politician from Tennessee. He's a Commissioner of Coffee County, which means absolutely goddamn nothing in the scheme of things. He thinks that the joke at top is funny. First of all, dropping any and all objections to its racist and violent nature, what's the joke? That people close one eye when they aim shotguns, and it looks like a wink? OK, we guess, but who the hell has ever asked in their lives "How do you wink at Muslims?" This is a bad joke. It's a stupid joke. People who laugh at this joke, in addition to being bigots, are not funny. They do not understand humor. They are, simply put, too dumb to read this website, and that's saying a lot.
Anyway, whatever ended up happening to the Racist Michelin Man up there? Less than nothing. Despite a lot of outcry on social networks, the only official apology was from the Mayor of Coffee County. The mayor clearly wanted nothing to do with this overflowing toilet of a person, but explained that he has no power over County Commissioners when they're not at work. So, what did Barry West have to say about himself when reporters finally reached him about the outrage?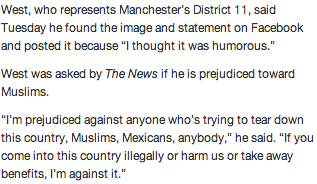 "I thought it was humorous" - someone who would have loved minstrel shows.
Well, we've certainly seen way worse instances of racism in this country, but this kind of casual provocation of groups is just incredibly annoying and disgusting. Also, as much outrage as this probably sparks, you know full well that they're also getting lots and lots of support from the anonymous mob of the Internet. At least we can all agree he's really ugly.