Unfortunately, no vaccine will make you immune to getting angry at the dumbs.
We all knew America would get around to bipartisanship again eventually...we just never imagined it would be to bring about the deadliest Horseman of the Apocalypse, Pestilence. That's right, an unholy alliance has been forged between wealthy liberals who mistake the groupthink of their other insulated, holistic psuedoscience-loving idiot friends for peer-reviewed research and conservative politicians who pander to folks who think anything the government does is a plot to kill them and give their money to poor people. Jon Stewart examined this anti-science partnership on the Daily Show, and I hope the stress of thinking about these people doesn't leave him vulnerable to the measles.
If that doesn't make you sad, how about this political cartoon from 70 years ago?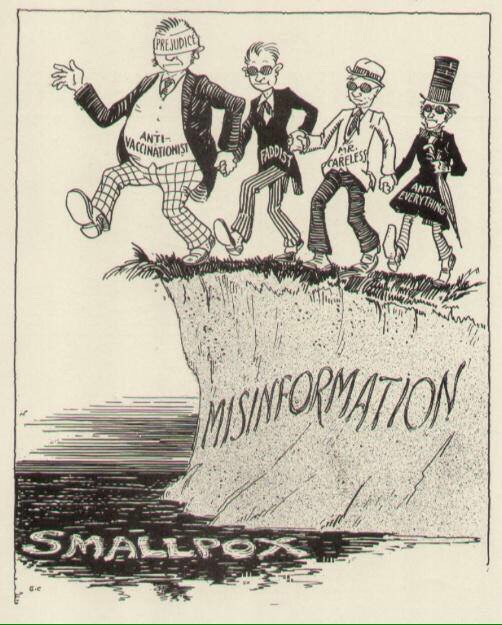 LOLOLOLOLOL SMALLPOX IS JUST A HOAX! (via reddit)
How about this work of political philosophy from 300 years ago?

Maybe you read him in college, a place that requires vaccines.
Y'know, I bring this up every time the vaccine topic arises, but in 1733 a guy named Voltaire wrote a book called Letters on the English. It's pretty important, and it's a big part of why in 2014 you can still name-drop Voltaire to sound like a smarty-pants. Well, in it, there's a discussion about the earliest form of vaccination, inoculation.
Inoculating someone against smallpox involved cutting people a little bit and then dripping the pus of someone who had just successfully fought off cowpox (a less-deadly relative of smallpox), and then you would intentionally give them a weak case of cowpox so that they would gain antibodies to fight off smallpox.
Today's vaccines involve weakened forms of the viruses that are so close to dead that getting a fever is usually the worst possible side effect. Yet in 1733, everyone agreed that the dumbass peasants who were suspicious of the inoculation programs were laughably stupid. That makes people who are against vaccines today dumber than dumb people from almost 300 years ago.
This is what all those monarchs warned us about when we started founding democracies.