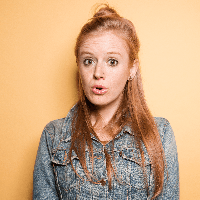 Filed by may wilkerson

|

Apr 27, 2017 @ 3:00pm
No one delivers a punch to the proverbial gut quite like The Simpsons. And they've continued their commitment to skewering our current president and his administration in this darkly hilarious video about his first 100 days in office.
The Simpsons ​​​​​​presciently predicted Trump's presidency back in 2000, so they've had plenty of time to prepare this satire and it shows. They perfectly nailed Donald Trump's presidential style right down to his refusal to read a bill: "Can't Fox News read it and I'll watch what they say?" And his haphazard, self-serving lawmaking: "Finally, it's legal to shoot hibernating bears!"
Watch and laugh through your tears:
TOO REAL, right???
I mean, sure, Ivanka Trump hasn't technically been nominated for the Supreme Court, triggering a vicious fight that ends with Justice Ruth Bader Ginsburg getting tackled to the ground..... yet. But it's hardly outside the realm of possibility.
And can we talk about these books for a second?
The Little Book of Big Bombs, Killing A Good Thing (by Bill O'Reilly) and Florida on $10 Million Dollars a Day. If these books existed, they would absolutely be on this tragic White House bookshelf.
This Simpsons video also serves as a useful PSA: Don't pull a Marge and let your prescription meds run out, people!! Refill that Prozac while we still have health insurance.
Side note: can you believe it's only been 100 days? Who knew gray hairs could sprout that quickly!