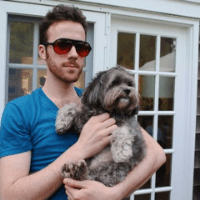 Filed by Miles Klee

|

Jun 03, 2017 @ 3:52pm
What a week it's been for the administration of President Trump. Between the Kathy Griffin controversy, his idiotic decision to withdraw from the Paris climate agreement, and the expansion of a probe into the White House's Russia ties, it seemed there was no end to the fear, vitriol, and disgust on all sides.
It can be really tough to take in all this garbage simultaneously. But, for once, CNN turned out to be pretty helpful. If you wanted a single sentence to describe the mess in Washington this week, it would probably be this caption:
Yes, Sean Spicer, the White House spokesman who faceplanted so badly in his first press conference after a two-week break that he literally ran away, is saying that he can't speak for the president on the issue of climate change.
So... time to look for a new gig?
Sean Spicer is someone who never talks to the president but pretends like he does.

So he is basically Eric Trump.

— Tony Posnanski (@tonyposnanski) June 2, 2017
how out of the loop is sean spicer if he has not "had the opportunity" to talk to trump?

— Mдтт Иegяiи 🔮 (@MattNegrin) June 2, 2017
@brianstelter

Change the title then. It isn't a "spokesman," it's "one who rolls the President's turds in glitter."

— Keith Pochick (@keith_pochick) June 2, 2017
#inners

Cable chyron "President's spokesman says he can't speak for President"

Gotta admit, things were better when words had meanings

— DP🐾Ashby (#Resist) (@DPAshby) June 3, 2017
Then again, maybe he's got the right idea. It would be nice to not hear from the president at all for a little while.