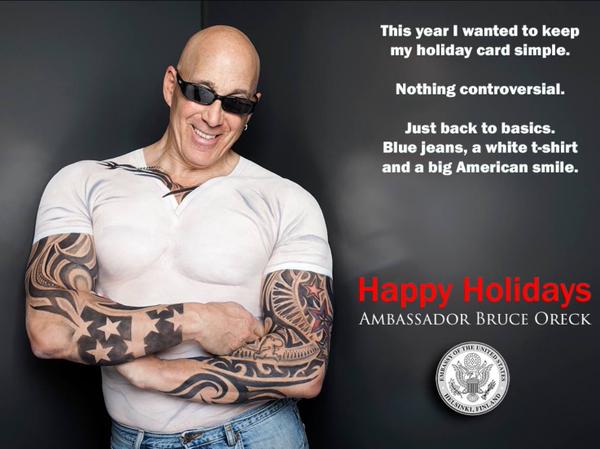 Wait, did he tattoo the t-shirt, or is the t-shirt also a tattoo?
Ambassador Bruce Oreck is America's man in Helsinki, and he is a whole lot of that. Before landing the gig through the time-honored practice of raising half a million dollars in "bundled" donations for the winning presidential candidate in 2008 (that's a big chunk of "change"), Oreck was vice president and general counsel for Oreck vacuums. Wonder who he had suction with over there to land that job? Oh. He was also a professional competitive bodybuilder.
That last detail might never have entered into his diplomatic career if not for a somewhat-controversial 2012 Christmas card from the Ambassador.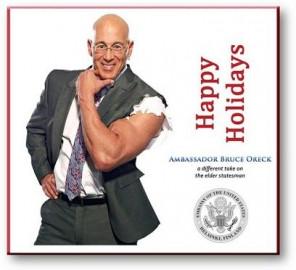 Now, that's what I call muscular diplomacy.
Now, the Finns are one of the most advanced societies on the planet and we have very good relations with them, so it's not like he's risking a war or anything. Nonetheless, some feathers were ruffled, so when it came time for Oreck's 2013 card, he made some changes.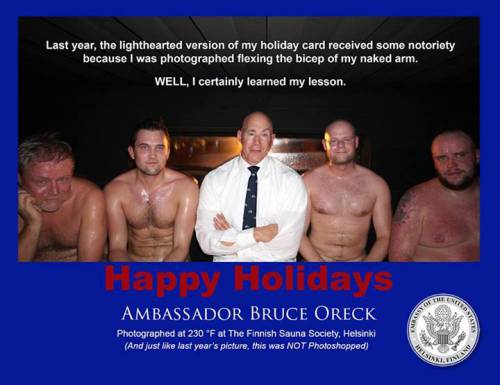 Being an Ambassador is all about making compromises. Or compromising images.
Gotcha, suckers! That's diplomacy 101 right there: sarcastic apologies. Fortunately, this decision has taken him from the ranks of embarrassing buffoons to the level of charming buffoons, and now everyone wants to be on his list. Clearly, the pressure is on for Oreck to seem ever-more-badass, which led to his decision to digitally add a bunch of tattoos to his already intimidating guns. And his t-shirt.
If he's lucky, he's got two more cards left to send from Finland. Unless he just sends a Someecard (and for the last time, Ambassador, no, we will not draw you).