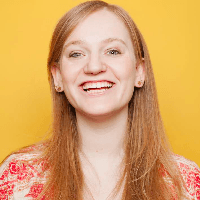 Filed by Orli Matlow

|

Jan 13, 2017 @ 11:33am
Tomi Lahren's week of fame beyond your conservative uncle's Facebook page started with a viral rant against Meryl Streep, and continued with the classic exercise of Twitter sleuths digging through her old tweets.
Though she quickly started deleting the aforementioned old tweets, Lahren went on Facebook Live to add context to those dispatches from her old college days, way back in 2012. Unlike her fave man one Donald J. Trump, Lahren doesn't say the world "P*ssy," which is the origin of her hashtag #popthatp.
Lahren insisted that her most glaringly hypocritical tweet about having to get a job was not hypocritical, because it referred to a summer job while she worked during the year.
The most interesting thing that the internet dug up about her college days a full three years ago weren't tweets, but videos.
A tweeter named Matt Gehring posted old videos of Lahren appearing on a program during her journalism studies. It turns out she used to be level-headed and reasonable before she got paid to rant and pander to the Pepes.
Thought you saw everything there was online about @TomiLahren and her pandering to an audience? Think again...

— Matt Gehring (@mattryanx) January 12, 2017
In 2017, Tomi calls everyone snowflakes and fragile. But in 2014, Tomi hosted this civil discussion about slurs and their place in society. pic.twitter.com/ed31Be9e5k

— Matt Gehring (@mattryanx) January 12, 2017
Tomi won't mention the words "gun control" without blaming Islam. But she calls it a multi-dimensional issue here, with no mention of Islam. pic.twitter.com/evDEUVbdPc

— Matt Gehring (@mattryanx) January 12, 2017
This isn't just growing up & changing her opinions. It's called getting hired to a propaganda machine, selling out and lying. #GrowUpTammy

— Matt Gehring (@mattryanx) January 12, 2017
Welp. You gotta find a niche to make it in media—even if that niche is borderline hateful and dangerous.