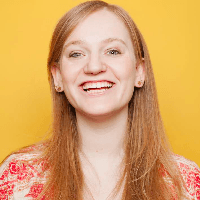 Filed by Orli Matlow

|

Jan 10, 2017 @ 9:46am
Tomi Lahren, the latest evolution in a conservative tradition of bombastic blondes famous for ranting about black people, spent Monday flipping out about Meryl Streep, and Monday night deleting old tweets. Amateur sleuths on the site dug back into Lahren's archive and found her even younger self (girl is only 24!) contradicting herself on her biggest talking shouting points.
The internet pundit is famous for decrying "liberal crybabies," and when they gather, it's "raining snowflakes," which is apparently different from "snowing" (or she simply forgot the word).
It might be warm in LA, but make no mistake it's raining snowflakes. Out of touch, whiny, overpaid SNOWFLAKES! #GoldenGlobes

— Tomi Lahren (@TomiLahren) January 9, 2017
Here are some of the old stuff users found that complicate her Conservative Angel narrative.
1. Lazy Liberals
It doesn't gel well with her new slogans:
Democrats vote for the handout. Republicans vote to get the damn hand out of the way so we can earn it ourselves. #whyTrumpWon

— Tomi Lahren (@TomiLahren) December 27, 2016
Here's to all those Americans who would rather work for a round of applause than whine for a handout. 🇺🇸 #TeamTomi #MAGA

— Tomi Lahren (@TomiLahren) December 27, 2016
2. School
3. Partying, partying yeah
While it is hypocritical if Twitter begins to shame Lahren for partying and having sex in college, people are arguing that it is hypocritical of her "brand" to go back and delete tweets when her career depends on not caring what people think about her.
A little partying never hurt no one...unlike spreading conspiracy theories about Black Lives Matter by neo-Nazi enablers.