Donald Trump taped an episode of Dr. Oz on Wednesday, and although it hasn't aired, journalist Katy Tur of NBC had a source in the audience with the exciting scoop that the internet's favorite campaign story is back: Trump's reverse-Oedipus complex with his daughter Ivanka. The source also had information on Donald Trump's latest physical, but it's his physical interaction with Ivanka that's going viral.
According to Tur's source, Ivanka walked on stage and Trump gave her a kiss. Then,
Dr. Oz said "it's nice to see a dad kiss his daughter" and Trump responded he "kisses her every chance he gets."
If it happened by itself, it would be no big deal. But after a year-and-a-half of these moments, it just makes you wonder why no one at Camp Trump has the courage to tell the boss that there's this weird rumor online about him and Ivanka.
In case you're blissfully unaware, Donald Trump famously said on The View that "she does have a very nice figure. I've said if Ivanka weren't my daughter, perhaps I'd be dating her."
He also told Rolling Stone in September 2015,
"Yeah, [Ivanka's] really something and what a beauty, that one. If I weren't happily married, and ya know, her father…"
And Howard Stern back in 2003,
"You know who's one of the great beauties of the world, according to everybody. And I helped create her. Ivanka. My daughter, Ivanka. She's six feet tall, she's got the best body."
People quickly found old photos like the one above of Donald and Ivanka next to their fornicating parrot statues. Other old photos emerged, and soon any time the two appeared together, people started watching for odd moments. The Trumps haven't been shy about providing them.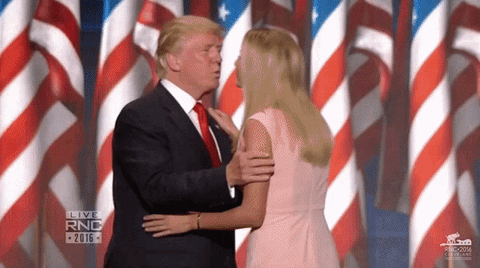 Ivanka isn't the only Trump with two X chromosomes whom Donald has said weird things about. Here he is discussing his one-year-old daughter Tiffany's future breasts.
At least Trump has promised to put Ivanka in his cabinet. It may be weird any time they're together, but as the child-care and maternity leave proposals Ivanka forced Donald to adopt prove, she's the most serious person he listens to. Granted, when he unveiled those widely-praised proposals of Ivanka's, he did it by imitating her saying "Daddy, Daddy, you've got to do this!" Baby steps.
(By the way, since everyone forgot the actual point of visiting Dr. Oz, Trump allegedly has decent blood pressure, takes cholesterol meds but is doing ok, weighs 267 pounds, and would be the heaviest and oldest president ever elected.)