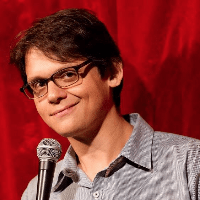 Filed by Matt Nedostup

|

Feb 16, 2017 @ 10:20am
In another early-morning Twitter rant (Are these going to happen every day?), President Donald Trump once again went after the anonymous whistleblowers within his government.
The spotlight has finally been put on the low-life leakers! They will be caught!

— Donald J. Trump (@realDonaldTrump) February 16, 2017
And during a congressional listening session at the White House on Thursday, Trump further threatened those low-life leakers ("LLLs" in political jargon), saying, "We're going to find the leakers. They're going to pay a big price."
Of course, the people of Twitter were waiting for him to lob him a softball like that. They pounced on him with jokes like they do every single day.
First thing I do every morning is punish my leaker.

— Andrés du Bouchet (@dubouchet) February 16, 2017
"When I find the leaker, they are so fired!" yelled the President at 50 people currently deleting "The White House" from their resumés.

— Johnny McNulty (@JohnnyMcNulty) February 14, 2017
The Trumpian view when someone informs your spouse that you've been cheating on them: "Honey, the real issue is the leak!"

— Adam Schiff (@RepAdamSchiff) February 15, 2017
By calling them leakers and not liars isn't Trump kind of confessing?

— Schooley (@Rschooley) February 16, 2017
Pres Trump on the trail: "I love WikiLeaks!"
"It's been amazing what's coming out on WikiLeaks"
"This WikiLeaks it's like a treasure trove!" https://t.co/x61ehwtA6m

— Karen Travers (@karentravers) February 16, 2017
Trump is gonna move on these low-life leakers like a bitch. Big league.

— Gavin Speiller (@gavinspeiller) February 16, 2017
Come on, POTUS. You can't saw "low-life leakers" and expect it not to become a meme. How long have you been on Twitter now?