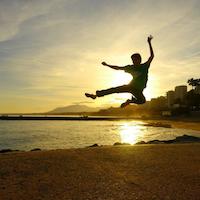 Filed by Mitchell Friedman

|

Oct 19, 2016 @ 9:04am
Donald Trump's guest list at the third and final presidential debate in Las Vegas will include President Obama's half-brother, Malik Obama.
"I'm excited to be at the debate," said Malik, also telling the New York Post that "Trump can make America great again."
The bizarre news broke Tuesday, the same day the president told Trump to "stop whining and go try to make his case to get votes."
Before the last debate, Trump's "case to get votes" included a press conference with three women accusing Bill Clinton of sexual assault.
This time, the attempt to get in his opponent's head with family issues doesn't even target Hillary Clinton.
But Malik Obama is a Trump supporter to his core. "I don't believe them" he told the Post, weighing in on Trump's own accusers of sexual assault. "Why didn't they come forward before?"
Malik Obama has a troubled relationship with his half-brother, using the new publicity to blame the president for not helping enough with his humanitarian foundation.